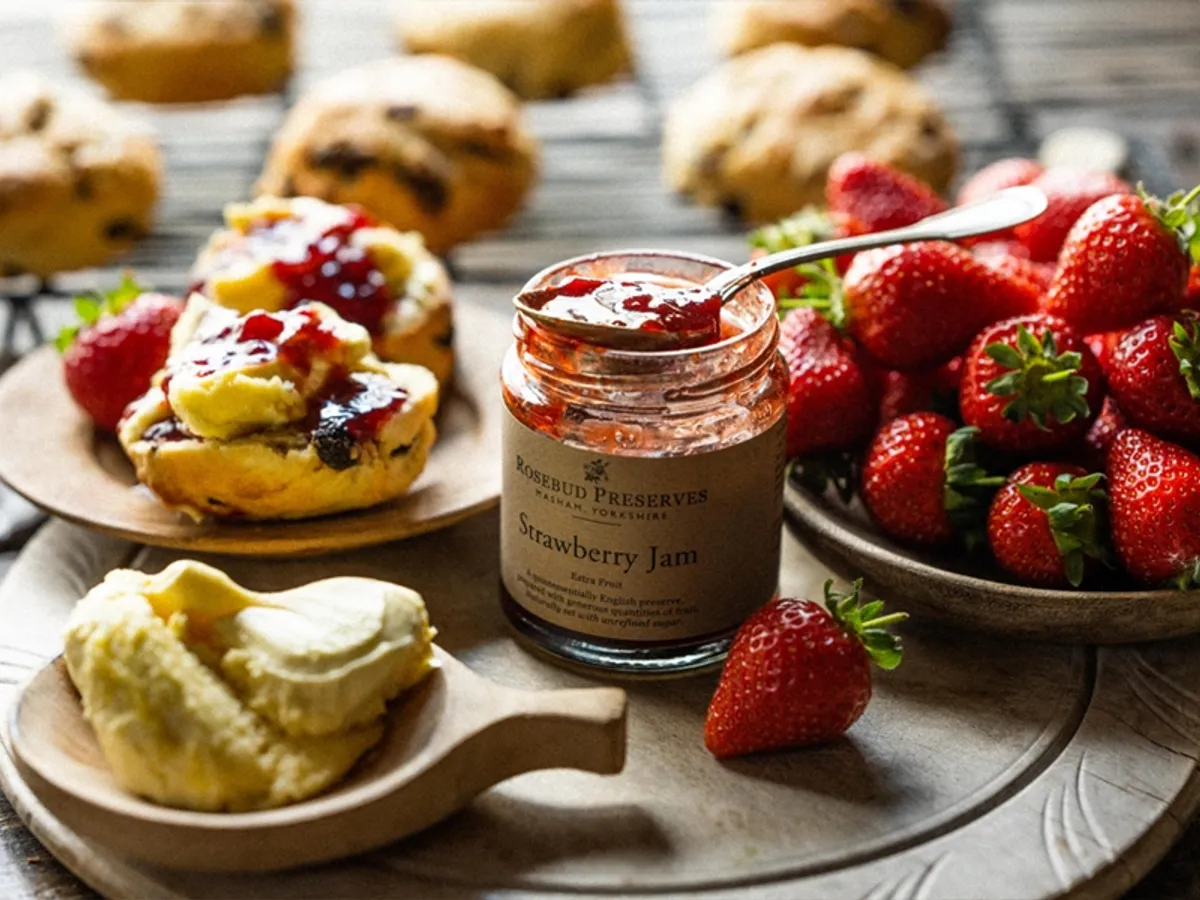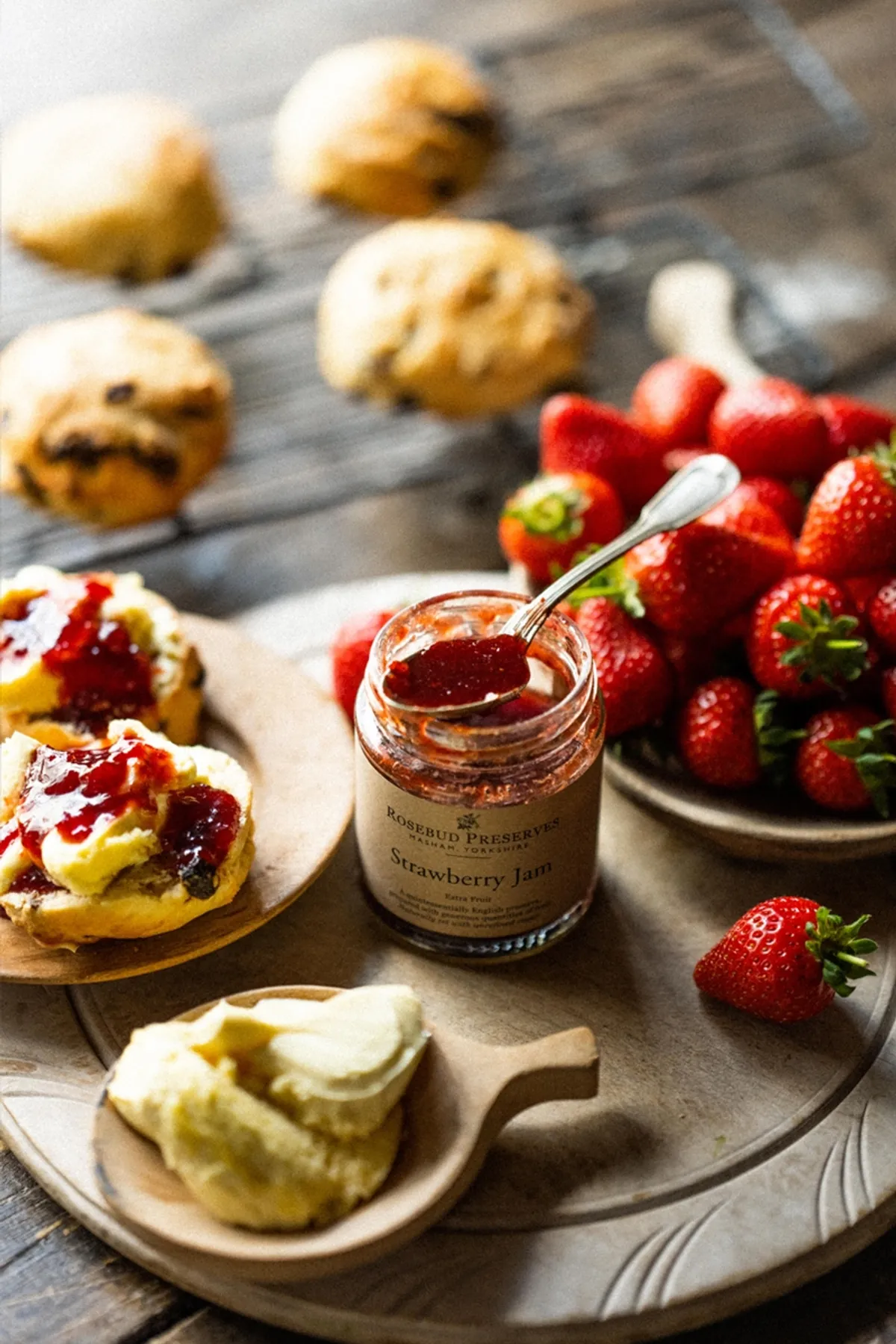 A classic Rosebud cream tea
The Perfect Cream Tea
Who doesn't love a cream tea?! That combination of scones, jam and luscious clotted cream is very hard to beat.
Here at Rosebud Preserves we are very partial to a cream tea ourselves. We work really hard making our preserves, but we also know how to enjoy ourselves. "Staff birthdays at Rosebud are celebrated with scones, jam and cream," explains our founder Elspeth. "I can't think of a better way to celebrate. There's something special about that combination. I can't resist a good scone with cream and jam." The scones for all our work celebrations are made by our office manager, Christine Johnson, who is a keen and excellent baker. "Christine's scones are as light as a cloud and as fresh as a daisy," says Elspeth happily. "Whenever we celebrate a birthday with a cream tea you can hear the conversation and the laughter. I do think that it's important to take time out of work and enjoy some social time together."


Scones
Christine kindly shared some tips on what makes good scones. Home-made scones really are the best. You want them to be freshly made the same day you eat them, she advises. Ideally, served warm from the oven. "I inherited my scone recipe from my mother-in-law who was a farmer's wife here in North Yorkshire. She used sour milk in her scones - which she made by adding lemon juice to milk – and no eggs. I use self-raising flour and either butter or margarine and I don't weigh anything out!" Christine chops the fat in first, then rubs it "very quickly" into the flour, next stirring in a spoonful of caster sugar and some washed raisins or sultanas. After adding the soured milk (or buttermilk) she mixes everything together. "I aim for a fairly soft mixture, but not too soft." A light touch with the scone mixture and working fast are key to her scones' success, according to Christine. She quickly works it into a round, rolls it out and cuts it into triangles or squares. "I don't want to overwork the dough," she explains. The scones are placed on a baking tray that has been preheating in the oven as she made the mixture and baked until risen and golden.
Clotted Cream
With its luxurious thick texture and mild, sweet flavour, clotted cream is essential for a cream tea – after all, the clue is in the name! Traditionally, of course, clotted cream is a West Country delicacy, associated with Devon and Cornwall. Here in North Yorkshire though we are proud to have our very own clotted cream producer Stamfrey Farm, near Northallerton, who produce clotted cream using cream from their own organic dairy herd. Sue Gaudie of Stamfrey Farm is from Cornwall originally. Having moved up to North Yorkshire she missed clotted cream so much that she started making her own clotted cream in 2003. Clotted cream is cooked cream, she explains. "Originally it would have been done to prolong the life of the cream. It would have been heated in the range ovens. We cook ours over a water bath." The cream is made on the farm. "The raw milk comes straight from our cows. I get a vessel of milk come across the yard to the processing unit, separate the cream while the milk is warm and then cook it. The cream goes into the cooker and that pasteurises it. As it cooks, it evaporates and that's what gives the clotted cream its thick texture. What we pride ourselves on is the sweetness and the velvety texture. When we go to shows and people taste our clotted cream they ask if it has sugar in it, but it's just the natural sweetness of our milk."
Jam
John Barley, our chef, is also partial to a cream tea; "I think it's the law up here," he observes with a smile. Key to an enjoyable cream tea, he points out, is good jam, something which we pride ourselves on making. Rosebud Strawberry Jam is, of course, the classic jam for cream teas, with ours being a perennial bestseller. "It works so well because of the richness of the strawberry flavour, plus the acidity from the fresh lemon juice we add. It makes a perfect contrast with clotted cream. We go to a lot of trouble to make our Strawberry Jam, from sourcing the right variety for jam making and cooking quickly in small batches to keep the texture of the fruit. We use the strawberries themselves as a thickening agent. All our jams are a soft, dropping set, which is what we want."
Another jam that John would warmly recommend for a great cream tea is Blackcurrant Jam. "For me it's perfect. It's that natural sharpness of the fruit which cuts through the cream and scones." Another favourite of his is Rosebud's Gooseberry & Elderflower Jam. "You have the acidity from the gooseberries – they add texture too - together with the perfume from the elderflower. When it's in flower we go out foraging for elderflower and use that to make our own very intense liqueur which we use to flavour the gooseberry jam. It's such a good combination. Rhubarb and Ginger Jam is great too. The tartness of the very lightly cooked rhubarb cuts through the richness of cream and the heat of the ginger works well."
The Serve
When it comes to cream teas, the big question - a matter of much heated debate – is do you put the cream on top of the scone, then the jam - which is the Devon way? Or, should it be the Cornish way, the jam first and then the cream? Here, at Rosebud, there's no debate. Jam on top - of course!