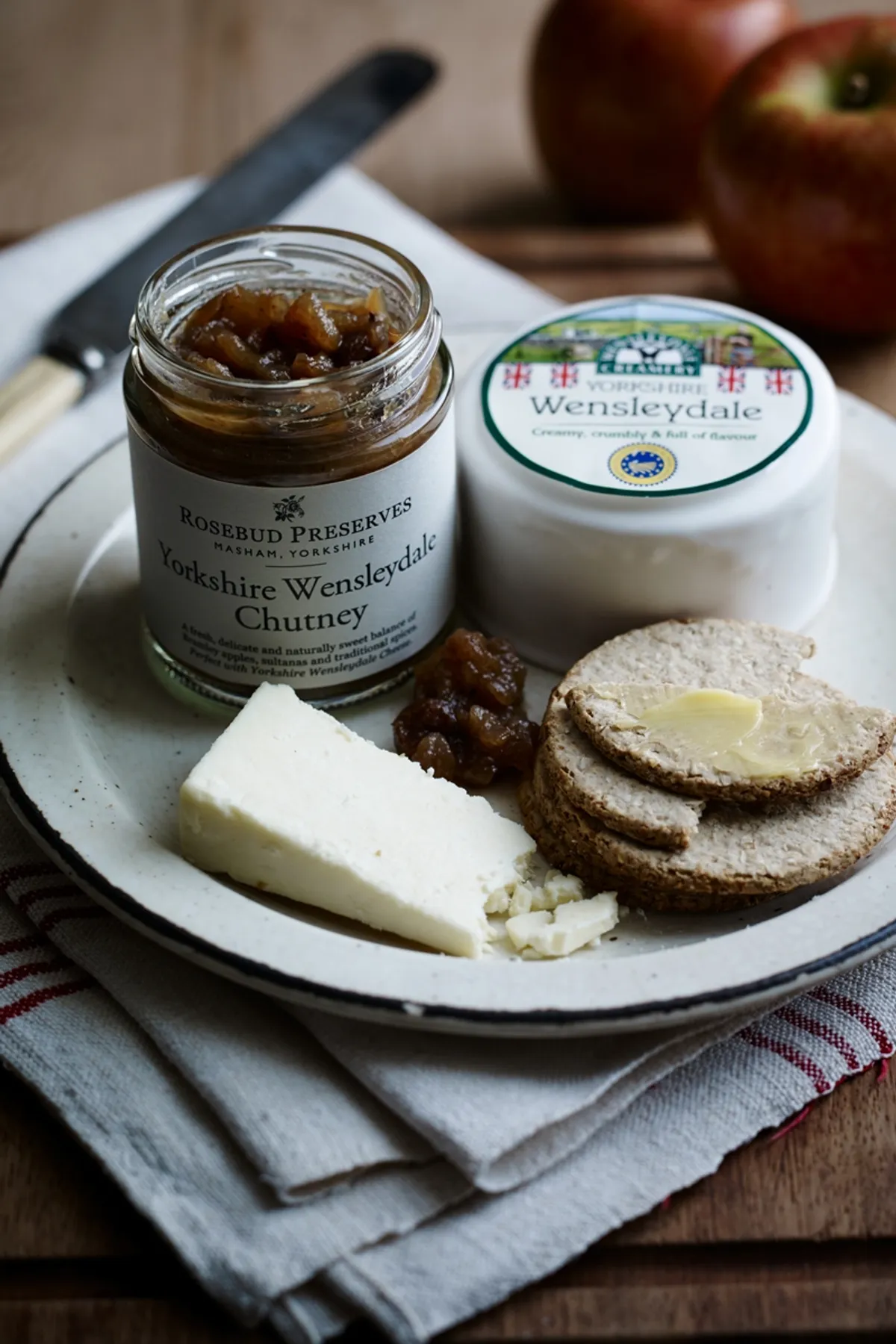 Yorkshire Wensleydale Cheeseboard
Our Wensleydale Collaboration
Local Yorkshire food producers collaborate to create a delicious chutney.
Elspeth Biltoft, owner and founder of Rosebud Preserves, says: "We wanted to work with a local cheese maker to develop a new chutney and Wensleydale Creameries seemed the perfect choice as they make their product with passion and skill from locally sourced milk".
"When developing the chutney we decided to use apples as the predominant ingredient, because in Yorkshire Wensleydale cheese is traditionally served with oat cakes or fruit cake or eaten with apple pie. Giving rise to the saying 'an apple pie without the cheese is like a kiss without a squeeze".
We found that the simplicity of fresh Bramley apples, vine fruit and traditional spices was the perfect partner for Yorkshire Wensleydale cheese.

The Wensleydale Creamery based at Hawes in Wensleydale, in the heart of the Yorkshire Dales National Park, is the home of the famous Yorkshire Wensleydale Cheese. The cheese was first made in Wensleydale in 1150 by Cistercian monks. Today the creamery uses traditional methods to handcraft the cheese, using milk from local farms, as well as developing new cheeses to innovative recipes.
Steeped in heritage and provenance, The Wensleydale Creamery achieved European Protected Geographical Indication (PGI)* status in December 2013 for its Yorkshire Wensleydale cheese, which is creamy, crumbly and full of flavour. The PGI status differentiates 'Yorkshire Wensleydale cheese' from other Wensleydale cheeses that are produced in other counties around the UK. Cheese-makers outside the designated area can only call their cheese 'Wensleydale' not 'Yorkshire Wensleydale'.

Yorkshire Wensleydale Chutney, 198g
More Information