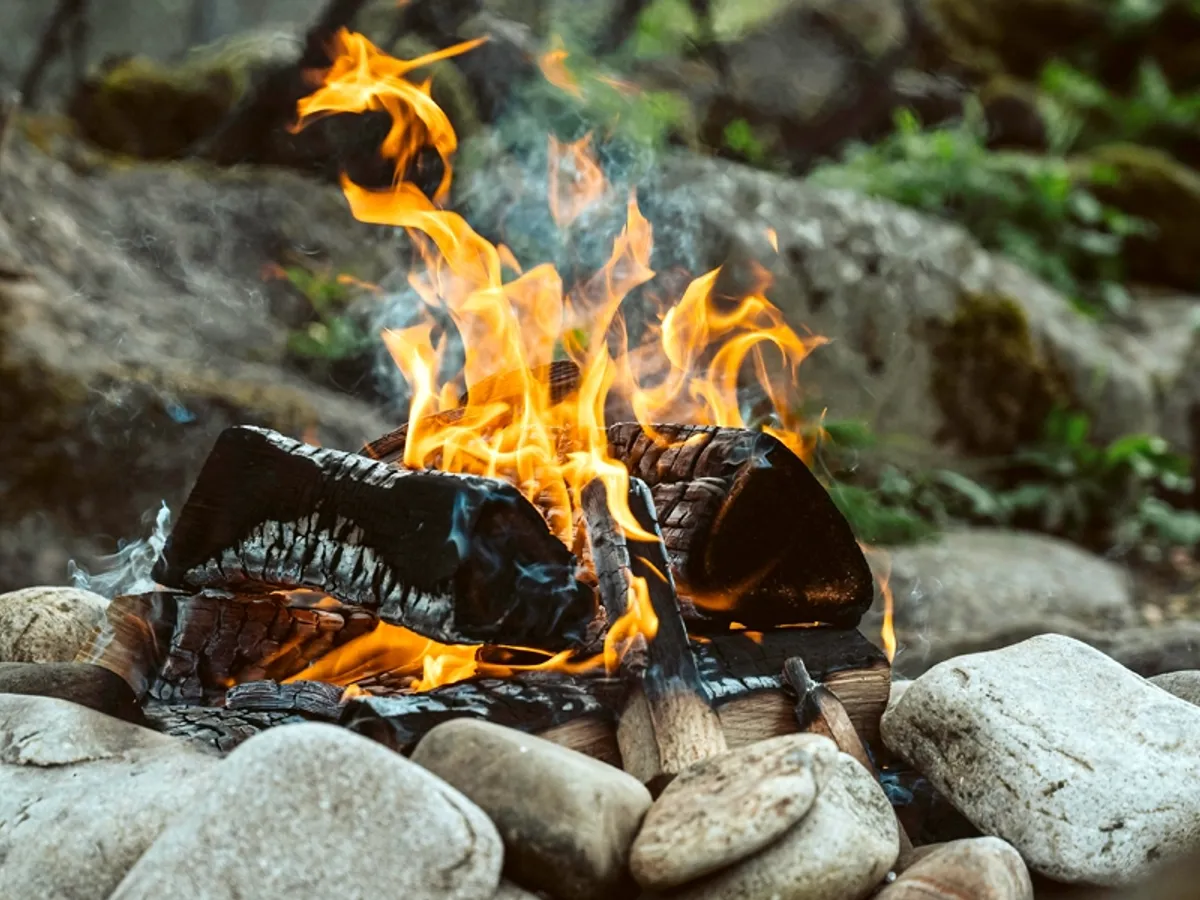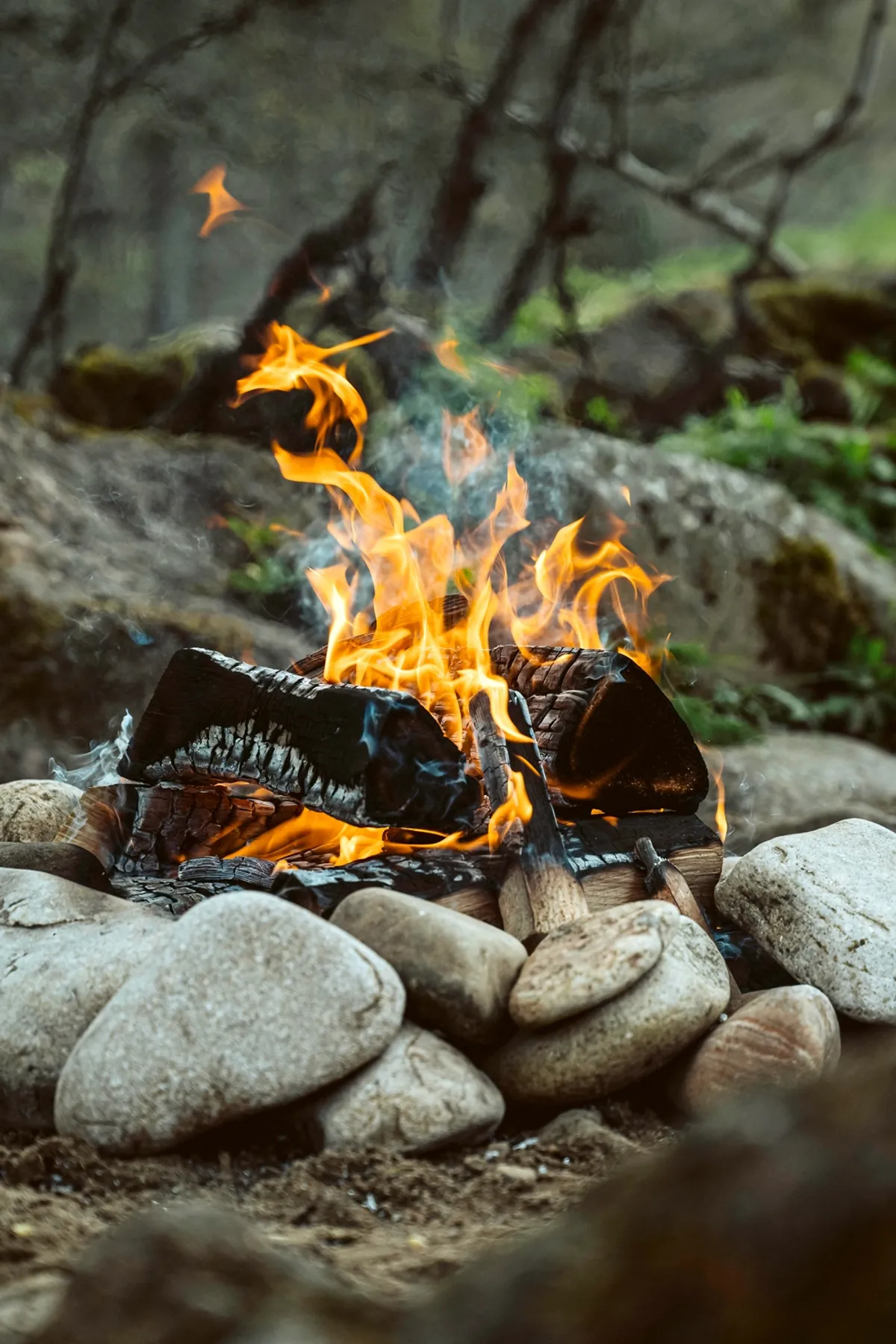 Wood fire by the River Swale
Outdoor Cooking
Connecting to nature through food is something we really believe in at Rosebud. Elspeth, our founder, foraged for wild foods such as watercress, blackberries and wild mushrooms as a child. Preserving is a historic way of using nature's abundance. We feel that our carefully made, traditional preserves such as Wild Crab-apple Jelly or Wild Rowan Jelly - made using fruit we find and pick from the Yorkshire countryside - offer a taste of nature in a jar. Enjoying these jellies spread on toast or with roast lamb or pork is a simple, delicious way to connect to the landscape that produced them.
Outdoor cooking is another great, enjoyable way of connecting with the natural world through food. We sat down by a wood fire with outdoor enthusiast Paul Robinson - known to many on social media as the 'Yorkshire Gourmet' - to find out what he loves the most about outdoor cooking.
A wood fire is the most primal of things. Gazing into the flames in an almost trance-like state, it's meditative and gives you a total sense of the present. Outdoor cooking is experiential, an escape. The time of day, the weather, the location, the season all affects the experience. The flames, the smoke, affect the flavour – something that isn't easy to replicate in the home, unless you have an industrial extractor in your kitchen. You can of course use a barbecue or fire pit in your garden if lugging kilos of wood and supplies for miles doesn't appeal or isn't possible. But the experience compared to cooking in the wild won't be the same.

One of the most important 'ingredients' is time. When I go walking, I often take a gas stove with me in my rucksack along with a small pan. Food that you've made at home can easily be re-heated, like a soup or stew. On the hills or up a mountain, by a river, deep in the woods – food always tastes better outdoors. The smell of frying bacon outside your tent on a morning is one of life's simple pleasures. There's a lot you can do with just a gas stove, but the thrill of wood fire cooking is where the possibilities are. I've cooked outdoors in all weathers – rain, snow, hail, thunderstorms, dry and arid conditions during the summer, it all adds to the 'flavour'. Time is probably the most important ingredient. Time to savour.
Most memorable experiences for me have been: At the top of Blencathra in the Lake District in winter in knee deep snow and a total white out. I made a small 'igloo' in which to shelter a gas stove. The wind was so fierce it made me laugh. The experience was totally invigorating. My warming lentil and bacon and soup spiked with a splash of whisky never tasted any better.

Another time, cooking breakfast of scrambled eggs (local eggs) on toast (local bread) with smoked salmon (smoked on Skye) in a bothy called 'The Lookout' at the most northerly point on the Isle of Skye. It was a beautiful sunny morning, clear blue skies, a coastal vista from the bothy windows and the prospect of catching a glimpse of a whale through binoculars. I once saw the only surviving golden eagle circling the summit of Tryfan in Wales on a particularly hot summer's day as I was getting ready to cook. You don't get any of this while sat at a table in a restaurant.

Footnote
In many places starting a fire is not permitted like in National Parks and on private land. So do seek the landowner's permission and be responsible. Always put the fire out before you leave and leave no trace.