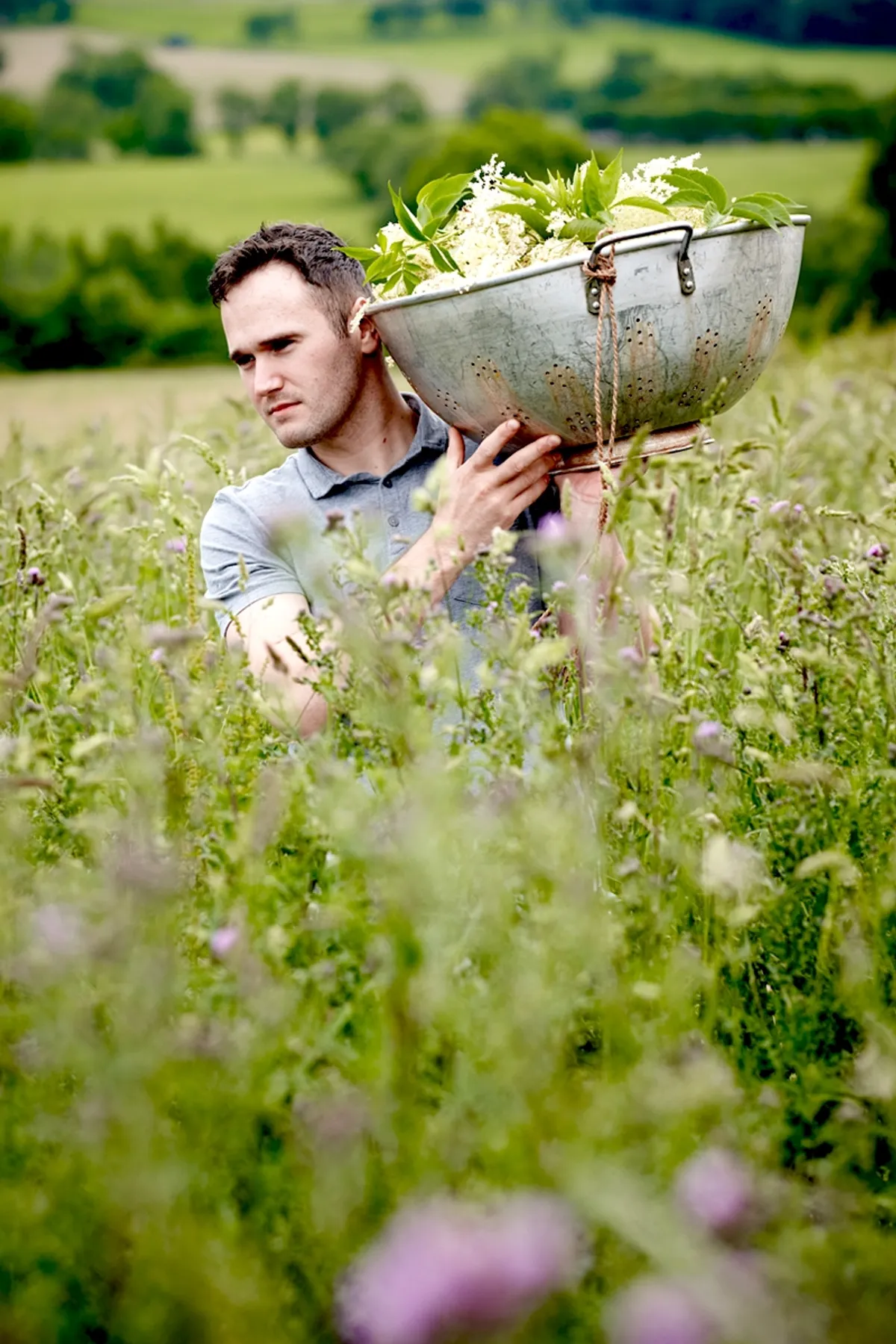 John gathering wild elderflower
Meet Rosebud chef John Barley
At Rosebud we work hard to deliver a high standard of flavour and texture in every preserve we produce. Helping us achieve that goal is Rosebud's Chef John Barley, a key member of the company. When founder Elspeth Biltoft looked to step back from the day-to-day work of the kitchen, she approached John Barley, then Head Chef of the acclaimed restaurant The Wensleydale Heifer.
John had already been working with Rosebud for a year, developing recipes for the website using Rosebud's products. Making such a move was a big career decision, but John has always been up for a challenge. "I was blown away by Elspeth's enthusiasm for life," says John, thinking of his early days with Rosebud. "I remember thinking that lady really knows her stuff. She absolutely knows the finer details and qualities of how to do things correctly. I'm going to have to up my game to get the standard of what she wants from me. That is honestly what I felt." He also felt he could fit in. "Rosebud is rustic, flavoursome and bold. Elspeth's principles are the same that I had as a chef: keep it simple, let the ingredients do the talking. It was a task I wanted to take on."
As well his culinary skills, John's organisational abilities, learnt from his time running a professional kitchen, as well as his culinary ones, were vital to his new role. "Restructuring kitchens to make them run more efficiently has always been something I've been good at." John looked at each product in depth and made production changes where he felt they were required. An example of his chef's eye for detail is that he brought in separate cooking times for each vegetable used in the piccalilli to retain texture. One major change he initiated was in the batch sizes, making them even smaller than they had been. "When I started here, Rosebud were cooking 50kg Seville oranges for marmalade at a time. I introduced a different way of doing things, using smaller cooking vessels, so we now cook just 18kg oranges at a time. With our fast-boiling products such as raspberry jam, strawberry jam and marmalade we make them in very, very small batches." There are quality reasons for this, he explains. "The advantage of doing small batches in pans with a large surface area is that you can gain and retain heat very quickly. That way you retain the colour, the integrity of the fruit, the freshness of flavour. Our raspberry jam is ready in just half an hour."
A fascination with problem solving is one of the satisfactions of John's job. The fruit cheeses are a range he introduced to Rosebud. In creating the quince cheese – a classic fruit cheese - he was faced with a culinary dilemma. "You need 60% sugar in there to be deemed safe, but when we first made it I felt it was too sweet. The perfect quince fruit cheese to my mind would be 55% sugar, which isn't legal, so I had to figure a way to get round that." Altering the chop of the quinces changed the chemistry of the cook and allowed John to achieve a quince cheese which tastes less sweet despite having the necessary 60% sugar.
Over his time at Rosebud, John has enjoyed creating, researching and introducing new products. "Products like the Red Onion Marmalade or the Great Yorkshire Pickle are from us thinking what would a Rosebud customer want from Rosebud?" The Smoked Apple Butter reflects the work, experimentation and teamwork that goes into creating a new addition to the range. "I thought what are the traditional staples that would sit on our range. Could we do an apple butter? We made an apple butter and we were pretty happy with it, but it didn't blow my mind." Talking to Jim, his trusted Sous-Chef, who'd worked with him at The Heifer, they came up with the intriguing idea of a smoked apple butter. "We smoked some Bramley apples over maple oak chips, then added them to the apple mixture. We make a puree from that – add golden granulated sugar, lemon juice, vanilla. We finish it with an oaky Single Malt whisky. It's a good product. When I develop a new recipe, I always use the best ingredients. If I'm using amaretto – as in our Cherry Amaretto Jam – I won't just use Saranno. It will be the best amaretto from Italy. It's a bit of a joke that all of our products have the most expensive ingredients in them," he laughs.
Listening to John talk with genuine enthusiasm about the challenges of making preserves – our conversation touches on subjects including the refractive index, the best strawberry variety for strawberry jam, achieving the right set and shelf stability - it's clear that he finds his role at Rosebud rewarding. "We put a lot of time and care into what we do. It's very hard work Rosebud – I'm not going to polish it any other way. You wouldn't expect a chef to say that about a preserves company, but it is. We as a team have engineered it that way!" It also clear that creating preserves to this standard, on this scale, has its satisfactions. Looking back at his early days at Rosebud Preserves, a particular memory comes to mind. "I'd come up with a Fig Chutney recipe that Elspeth wanted me to have a go at. The first time Elspeth put a label on a jar of Fig Chutney made to my recipe, I thought, 'You know what, that's a proud moment that." Just as John enjoys finding ingredients that work well together, it feels that this talented Yorkshire chef has found a good, creative fit for his culinary talents here at Rosebud Preserves.