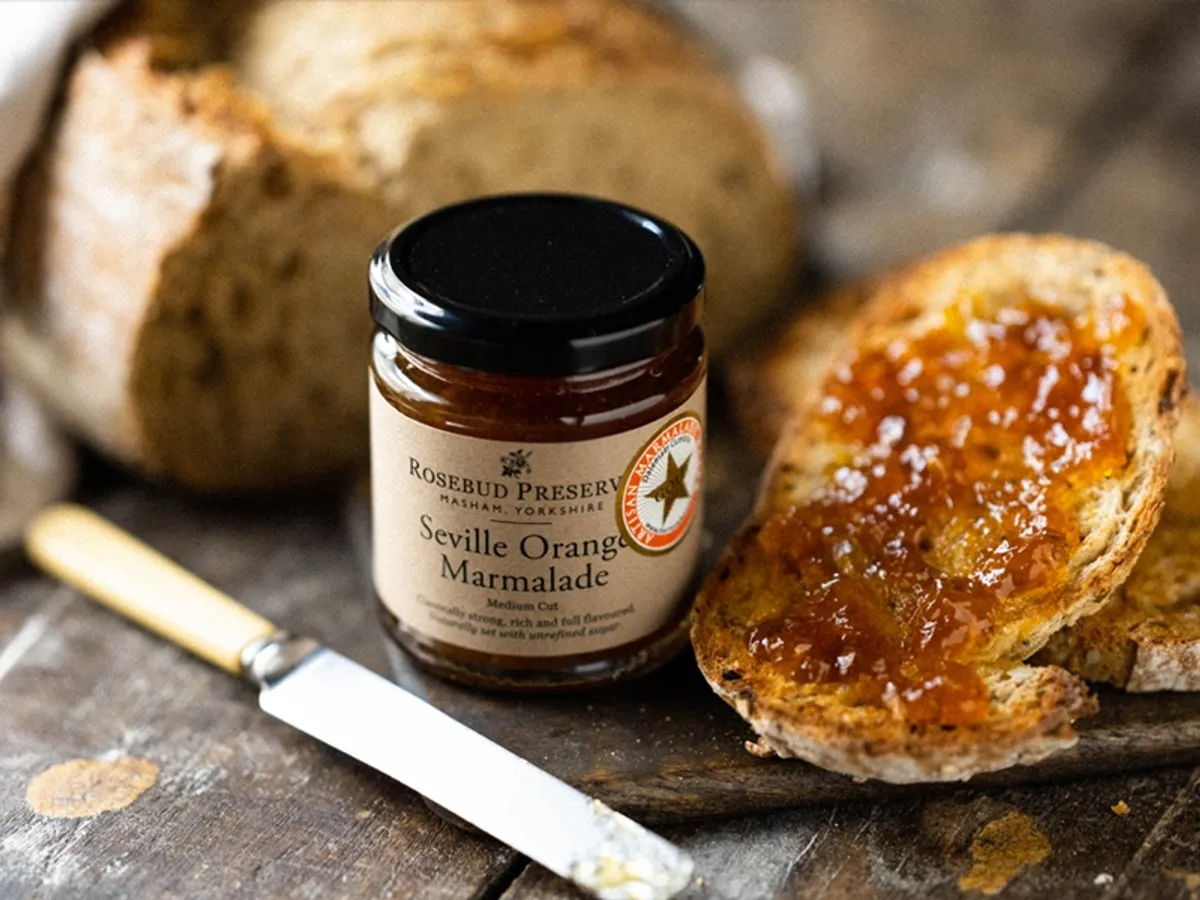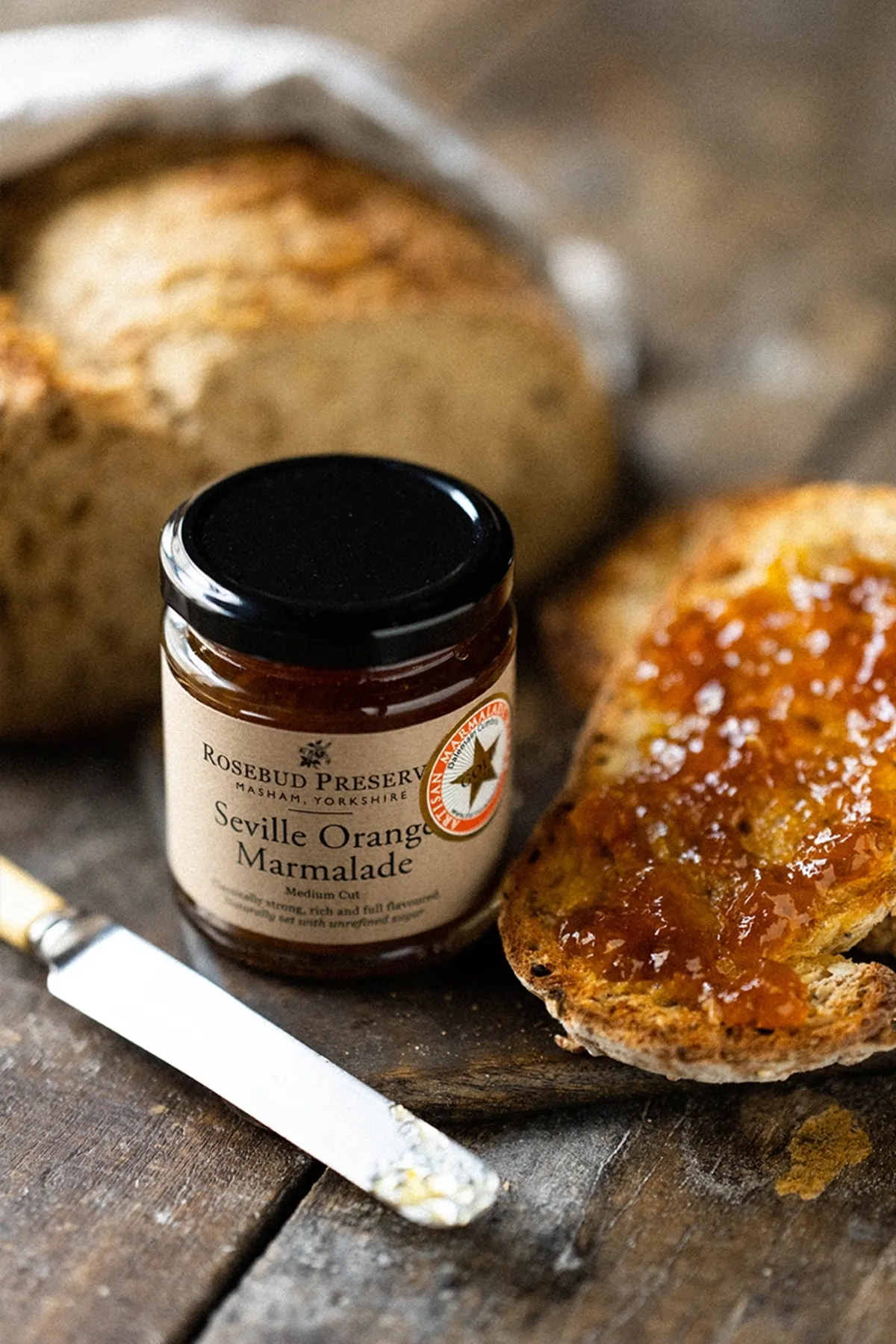 2021 Award Winning Marmalade
Award Winning Marmalade
We're thrilled that our Seville Orange Marmalade has been awarded a Gold in the 2021 Marmalade Awards! The annual Marmalade Awards and Festival at Dalemain, Cumbria reflects a deep-rooted enthusiasm for marmalade both in Britain and internationally. Artisan marmalade makers, people running bed and breakfasts and homemade marmalade makers all enter.

Such is the interest that this year they received over 3,000 entries from Britain and 42 countries around the globe. The Marmalade Awards – judged by a knowledgeable panel including preserves expert Pam Corbin and baker Dan Lepard - are very well-respected indeed and highly competitive.
Now in its 16th year, the Marmalade Awards were set up by Jane Hasell McCosh of Dalemain Mansion. "The original inspiration for the Awards is that I love good marmalade," she explains. "I was brought up with good marmalade, as my mother made it. That heritage side of marmalade is true of many people." Following a devastating Food and Mouth crisis in Cumbria – "strangely with some similarities to what we're experiencing today" – Jane wanted to set something up to boost local business. "Tourism had collapsed and a lot of businesses went against the wall. I was determined to put on something which would say Cumbria is alive and kicking," She managed to persuade 60 people to enter – "They really didn't want to give away a jar of their precious marmalade at all!" – and launched the Marmalade Awards and Festival in 2005. The event has grown considerably, with more and more entries received each year. "What's exciting this year is that we're making lots of little films for YouTube exploring aspects of marmalade. Our Head Judge Dan Lepard is interviewing peoples, so one film will be of Pam Corbin talking about how to get a really good colour in marmalade."
Why do people love marmalade so much? For Marmalade Awards Judge Pam Corbin, it's a very British preserve with a historic pedigree. "I always think there are three things you can wrap up and send around the world from Britain. One is marmalade, one is shortbread and the third is tea. All the main marmalade producers in the UK do export." Part of the preserve's appeal, she feels, is its diversity. "If you think of the different citrus fruits, the different sugars, the cut of the peel – thick cut, thin cut, shred-less, then there are additions, like whisky which reflects its Scottish origins. You can have a beautiful, fine-cut, clear marmalade or a dark, treacly one." For Jane, making marmalade means "using fresh fruit, which gives people a link to nature. The wonderful smell when you're cutting up those oranges is a joy. The aroma of orange is meant to be an anti-depressant which is interesting."
Running the Awards is a huge administrative task, with great care taken to judge responsibly and constructively. "The whole aim of the competition was set by Eileen Wilson of the WI who said we're not trying to put people down, we're trying to encourage them to do better," explains Jane. "The artisans value the Awards because we give very good feedback." A partnership with Fortnum and Mason means that winners in both the Artisan and Home-made categories are sold in this famous food emporium, both in London and in their Hong Kong store – an exciting prospect for marmalade-makers.
The Marmalade Awards are open this year, with the results of the judging process announced in the summer. The happiness of the award winners is something that everyone involved in judging finds rewarding. In these challenging, pandemic times, Jane feels that entering the Awards is "the perfect thing that people should be doing right now. They'll be making something delicious and helping hospice work all over the world. One of our new categories in 2021 is Make Marmalade for a Friend. You give a jar to someone who helped you last year – it might be your next-door neighbour. The Marmalade Awards are all about community." With its glorious amber colour and distinctive, tangy flavour, orange marmalade continues to delight.